I know I have kept everyone on the edge of their seat this week (Hi, Antonia!), but it is finally here: part two of the mid 2000's throwback! Take another trip down memory lane while you get dolled up for a night out with friends (nope) or during your cozy night in (yes).
14. The Red Jumpsuit Apparatus | Face Down | Don't You Fake It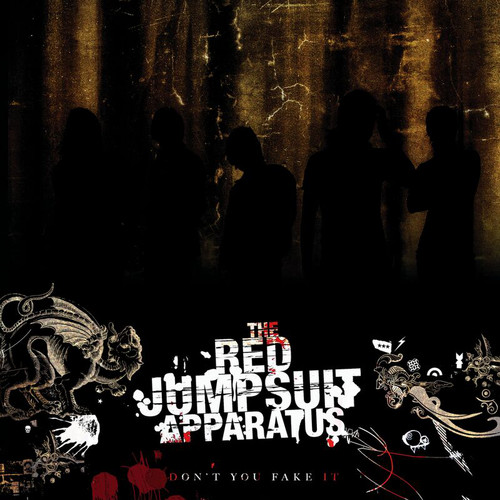 This was the first single off of The Red Jumpsuit Apparatus' debut album in 2007. And, to date, one of two songs with screaming that I can actually tolerate (and enjoy). But this definitely found its way onto may of my playlists at the time.
15. Cartel | Honestly | Chroma


This is another first single from a band's debut album on my list. I'm not sure what it was about first singles and debut albums, but clearly I was a fan in the mid 2000's. It also makes for a good song to blast in the car with the windows down!
16. Mat Kearney | Nothing Left to Lose | Nothing Left to Lose
I don't recall where I first heard Mat Kearney for the first time, but I remember his music randomly coming into my life many times in the mid to late 2000's. In 2014, he performed at my university for our annual spring concert and, again, I was overcome with emotion after hearing music I had grown up with live for the first time.
17. Plain White T's | Hey There Delilah | All That We Needed


Tell me that teenage-you never pined for someone to sing a beautiful song like this about you. I know it's not true, because the name 'Delilah' jumped in popularity for babies between 2006 (the year the song was released as a single) and 2007.
18. Shifty | Slide Along Side | Happy Love Sick


This was one of those songs I first heard solely because it was on one of my sister's playlists. (Like I've said, far better taste in music.) I used to listen to this song for hours.
19. Jack's Mannequin | Dark Blue | Everything In Transit

From the first few seconds of upbeat piano notes to the repetitive lyrics, this song is a familiar friend. It was the second single off Everything In Transit, and possibly even more memorable than "The Mixed Tape" (to me, at least). Also, how cute is that music video and how much does it remind you of the Gilmore Girls episode ("They Shoot Gilmores, Don't They?") with the 50's dance marathon?
20. Taylor Swift | Our Song | Taylor Swift


This is one of the classic country songs from Taylor's debut album, and even though it's musically different from nearly every other song on this list, it was one of the catalysts for the successful career she owns today. (Facebook recently reminded me how much my friends and I adored this song in high school.)
21. Jonas Brothers | Hold On | Jonas Brothers
Another seemingly "out there" pick for the list from another artist's self-titled album… As I've mentioned though, a huge part of my childhood (aka the mid 2000's) included being obsessed with the JoBros, so this was a no-brainer. (Look at how tiny and cute they were!) Honorable mentions for this album are "When You Look Me In The Eyes" and "That's Just The Way We Roll" because they all remind me of my early high school years and being a total fangirl.
22. All American Rejects | Move Along | Move Along


When I was a freshman in high school… (Are you noticing a theme here?) this song was released as the second single from All American Reject's sophomore album. I had listened to "Move Along" a few times and added it to my music library, but the song didn't mean anything significant until more than a year later, when it came up on shuffle when I was having a rough week. I heard it live six and a half years later when I saw AAR perform at the House of Blues in Boston and it put the biggest smile on my face.
23. Simple Plan | Welcome to My Life | Still Not Getting Any…


I went through a phase in fifth and sixth grade where I listened exclusively to Simple Plan and Good Charlotte's early albums on my portable CD player. In 2004, when I was in middle school and right on the cusp of that "I am so misunderstood!" phase, Simple Plan released this song as the debut single from their second album and everything totally made sense because I was not the only one to feel like I was hurt or lost or misunderstood.
24. The Fray | How to Save a Life | How to Save a Life

The piano-driven sound of The Fray's entire debut album received plenty of mixed criticism after its 2005 release. This song in particular brought the album its popularity though after appearing on multiple television shows. It was featured once on an episode of One Tree Hill, immediately following the Tree Hill High school shooting, and three times over the course of Grey's Anatomy (season 3's "Superstition," season 7's "Song Beneath the Song," and season 11's finale, "You're My Home").
25. FM Static | Crazy Mary | What Are You Waiting For?


"Three Days Later" almost made the list, but then I remembered "Crazy Mary" and I had the distinct memory of listening to this as I wrote chapters for my very first novel in our old computer room. Both songs come from FM Static's debut album, released in 2006.
*26. The Veronicas | 4ever | The Secret Life Of…


I got toward the end of the list and realized I couldn't pick just twenty-five songs… so here's a bonus twenty-sixth! I also recall listening to this as I wrote part of that first novel and all those hours I used to spend on MySpace…
I will always love music. I will always be enamored, not only by the sound, but also by the feel music–especially live music. But nothing will come close to the music from my childhood, my growing up years. How it shaped me and supported me, gave me courage, stood by me as my own personal soundtrack. Some of it may sound different now, or it has taken on new meaning, but it reminds me of exactly who I was all those years ago.
This list may seem like a somewhat odd collection of music–ranging from pop rock to power pop to pop punk and even to straight pop–but that kind of describes its time perfectly. Even if it is not sonically cohesive, it's kind of like home. All of this mid 2000's music (and more) saw me through those testy teen years. More often than not, I was being at least a little overdramatic or too angsty, yeah, but this was the music I turned to day in and day out to pick me up or to just be there for those emotional (and overly hormonal) times.
It mattered to me. And if it matters to you, it makes a difference.